Choose your Brembo Upgrade System
GT Systems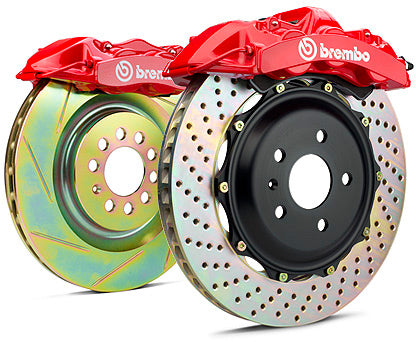 The brembo gran turismo high performance braking system offers significant advantages over the OE manufacturer's system - advantages far beyond what's simply known as "big brakes".
As the braking system's primary function is to dissipate heat, larger, more sophisticated discs are used in order to increase the fade resistance of the system. These discs are directionally vented for enhanced cooling, as well as drilled or slotted for improved consistency, continuously cleaning and refreshing the pad surface.
Brembo at a glance
200+
The Brembo High Performance (HP) Program is the direct result of winning over 200+ World Championships and decades of designing brake systems for the worlds top supercar manufacturers. Brembo Dominated Motorsports: Formula 1, World Rally Championship (WRC), NASCAR, Champ Car World Series, Indy Racing League (IRL), American Le Mans Series (ALMS), Grand Am Rolex Sports Car Series, Speed World Challenge, and FIA GT Championship.
Brembo has a unique relationship working directly with automotive manufacturers to develop high performance braking solutions specifically for your vehicle. You can rest assured that every system designed by Brembo is specifically tuned for your vehicle like no other braking system on the market. Brembo supplies over 30 automotive manufacturers including Acura, Aston Martin, Audi, BMW, Cadillac, Chrysler, Dodge, Ferrari, Ford, General Motors (GM), Honda, Infiniti, Jaguar, Jeep, Lamborghini, Land Rover, Lexus, Maserati, Mercedes-Benz, Mitsubishi, Nissan, Porsche, and Subaru.
Brembo uses its own foundries in the industrial process, whereby bringing a thorough knowledge of metallurgy to its design know-how which also creates further synergy in the optimization of the production cycle. The research and development phase is flanked by the testing phase which involves static, comfort and road testing and dynamic tests on test benches. Brembo brakes are manufactured under quality and environmental ISO 9004 and ISO 14000 management standards which puts Brembo in a league of its own in high performance braking.
Brembo GT Systems at-a-glance
GT is the most popular system
offered by Brembo
System Includes
(Per Axle)
Calipers, Discs, Brake Lines, Caliper Mounting Brackets and Brake Pads
Caliper
Construction
Cast, Aluminum-alloy, Monobloc or 2-Piece
Piston
Design
Dust Boot and Inner Pressure Seal
Caliper
Finish
Red, black, silver, yellow
Disc
Design
1 or 2 piece
1 or 2 piece
Effective range of brake systems

Brembo High Performance GT/GT-R Systems are designed to give you the advanced technology behind Brembo racing systems without compromising the driveability and comfort features of an OE Brembo system.
| | |
| --- | --- |
| Non-Brembo OE Systems | Non-Brembo OE systems typically use a heavy, low-grade iron rotor and a flexible sliding caliper that severely limits performance. |
| Brembo OE Systems | Brembo OE systems are superior to non-Brembo OE systems by the use of opposed, multi-piston aluminum fixed mount calipers, and high carbon or CCM discs. |
| Brembo GT/GT-R | GT/GT-R systems are revolutionary in their design and performance, and no other braking company is able to offer this level of performance and range of vehicle applications. The GT/GT-R systems exemplify Brembo's dominance as a world leader in high performance braking. |
| Brembo Racing Systems | Racing systems are designed for the sole purpose of winning championships. This pinnacle of performance is not bound by the comfort and anti-noise features that are built into Brembo GT and GT-R Systems. |
ATTN: "Effective Range of Brake Systems" illustration is meant to be a general guideline. Please contact your Brembo authorized dealer to determine the proper brake system for your vehicle and intended use.
Optimum brake balance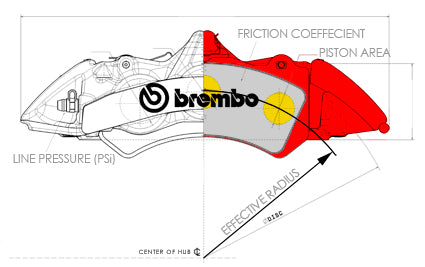 Calipers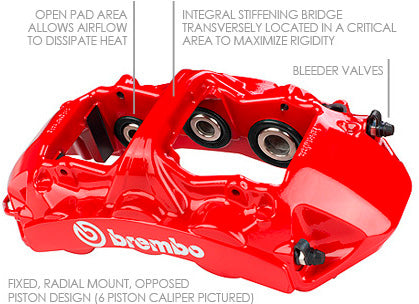 Uncompromised braking solution for those who won't accept "good enough"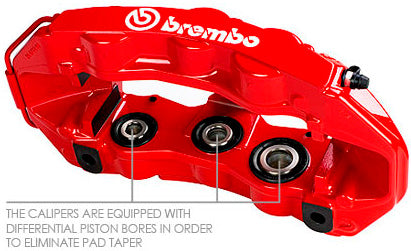 High performance brake pads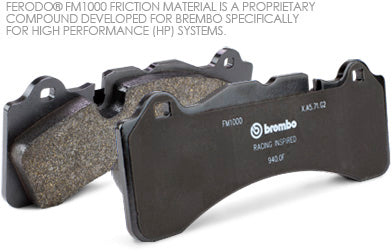 Caliper mounting brackets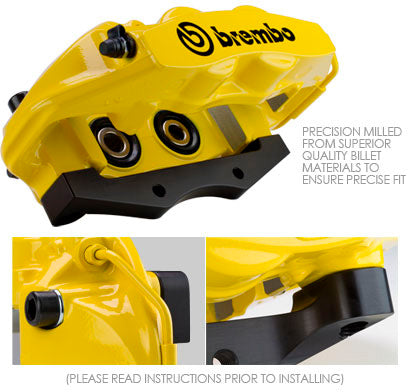 The technology and performance of a brembo brake system is unrivaled by any other product on the market. Each system is designed vehicle specific for maximum performance and "optimum brake balance".

Brembo engineers design each brake upgrade specifically for your vehicle and driving conditions.
Optimum brake balance is achieved by combining Brembo's thorough knowledge of OEM braking systems and use of an unlimited range of caliper, piston, and disc combinations.
Brembo brake upgrades are easy to install and designed to work seamlessly with your vehicle's stock master cylinder, ABS, and traction control system.
THE BREMBO DIFFERENCE: Improved pedal feel, modulation, and control of braking performance from initial application through ABS intervention.
The caliperbody has been designed to be as light as possible while meeting stiffness criteria.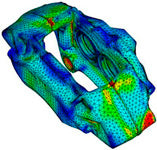 Monobloc: a single integral unit or 1-piece design that optimizes the ratio between mechanical stiffness and weight.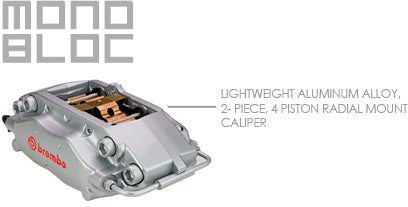 Most OE calipers are of a sliding design, with piston(s) only located on the inboard side of the disc. While this type of caliper is inexpensive to manufacture, it is generally extremely heavy, and inherently flexible under braking, which significantly degrades performance. Conversely, Brembo's calipers are a fixed radial or axial mount design with opposed pistons and constructed from aluminum alloy. Despite being much larger and many times stiffer than the sliding OE caliper, they are also much lighter which benefits overall vehicle dynamics.

Brembo calipers incorporate a twin seal design that restricts dirt and debris from entering the caliper body and contaminating the brake fluid.
This extends caliper life by protecting the pistons and internal pressure seals and prevents the need for maintenance.
Brembo calipers undergo a strict homologation process which exceeds the requirements set by OEM manufacturers. Each Brembo system is delivered with preloaded calipers. Brake pads are selected vehicle specific for high performance.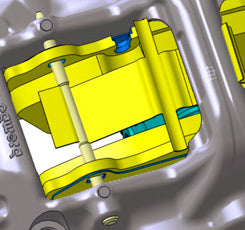 Quick Release Pad Retaining System: Incorporates anti-rattle feature (pictured) to eliminate noise and is designed for quick and easy pad changes.
All Brembo caliper mounting brackets are designed vehicle and system specific. They are precision milled from superior quality billet materials to ensure a precise fit and meet the strength requirements of high performance driving conditions. Brembo brackets are also further analyzed and tested to ensure fatigue life.
Brembo caliper mounting brackets are also anodized to provide an attractive finish.
Each Brembo system includes all necessary hardware for ease of installation (please read instructions prior to installation).
Discs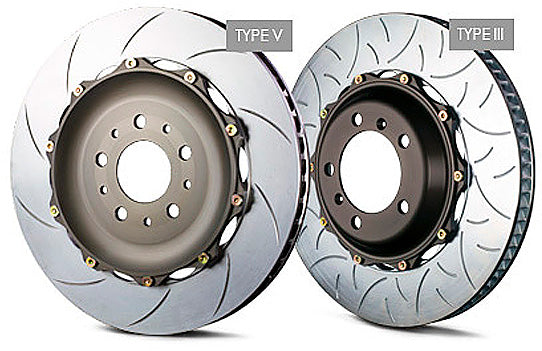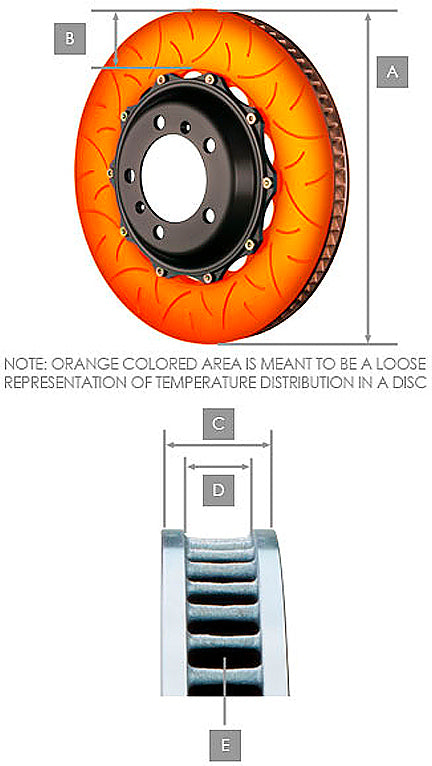 1-Piece Discs
One piece rotor systems offer a cost effective solution to the high performance brake upgrade. Includes oversized calipers and rotors for increased brake torque and thermal capacity. These performance upgrades are available for many European, domestic, and import vehicles.
Disc Thermal Capacity
A Mass: The area located in the outer ring of the disc (shown in orange), dictates thermal capacity. This consists of annulus, width, diameter, air gap, and vane design.
B Annulus: The area between two concentric circles. This dimension directly correlates to the friction surface area of the brake pad.
C Disc Width: The overall thickness of the disc. Calipers are designed for a specific width.
D Air Gap: The area located between the rotor plates surface is airgap. The amount of airgap is a crucial factor in channeling airflow.
E Vane Design: Exclusive venting system that improves cooling capacity which increases resistance to brake fade.
Brake systems are designed to operate best within a prescribed temperature range. While modern high performance friction materials broaden this temperature range, it is critical that the brake disc in a system has adequate thermal capacity.
Thermal capacity, or heat storage capacity, is determined by how much weight or mass is located in the outer ring section of the disc. This is the area where the friction surface of the disc meets the internal vanes (orange colored area in the diagram shown). The more mass located in this area, the more thermal capacity a disc has.
CROSS DRILLED
Cross drilled discs run at slightly lower temperatures due to added air flow through the surface of the disc where heat is generated.
They are also highly effective in wet conditions and shedding debris from the disc to ensure a clean braking surface.
Improve pad "bite", improve wet weather performance, continuously refresh the brake pad.
Slotted Discs
Slotted discs are recommended when using race pad materials or compounds. the vehicle is submitted to extreme braking duties such as towing or hauling heavy loads.
Improve pad "bite", improve wet weather performance, continuously refresh the brake pad.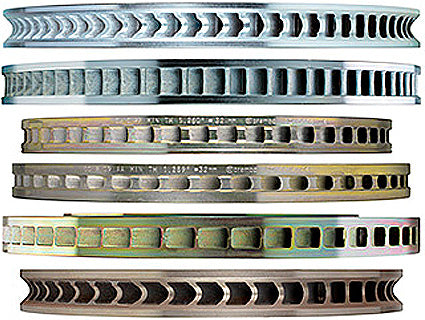 Airflow / Cooling
The curved vane disc is directional, and curved vane disc must be installed with the vanes running back from the inside to the outside diameters in the direction of rotation. Orienting the disc in the manner creates a centrifugal pump. The rotation of the disc causes air to be pumped from the center of the disc, through the vanes, and out through the outside diameter of the disc. This greatly enhances the disc's ability to dissipate heat. Additionally, all of Brembo's slotted discs are directional, regardless of the vane geometry. The discs should be installed such that the end of the slot nearest the outer edge of the disc contacts the pad first.
TECH NOTE: It is a popular misconception that the cross drill pattern determines the direction of rotation of the disc. In truth, for an internally vented drilled disc, the geometry of the vanes dictates the direction of rotation.
Disc Hardware
The coupling between the bell, disc and disc hardware has been carefully studied by Brembo to maximize performance, comfort, and longevity. These proprietary disc hardware systems were developed though extensive involvement in professional motorsports and supplying the worlds top OE auto manufacturers.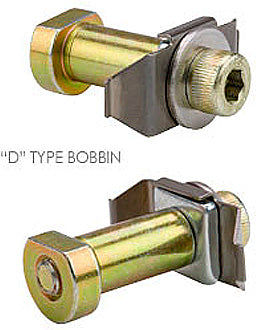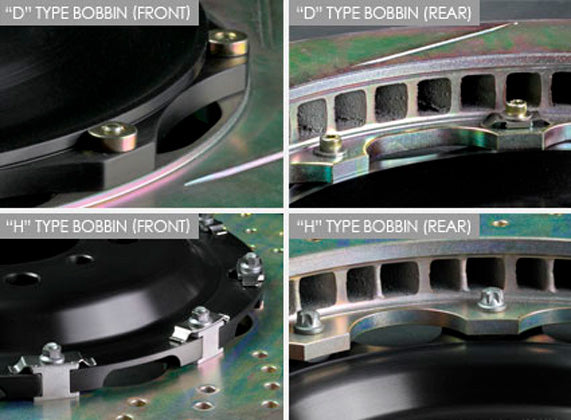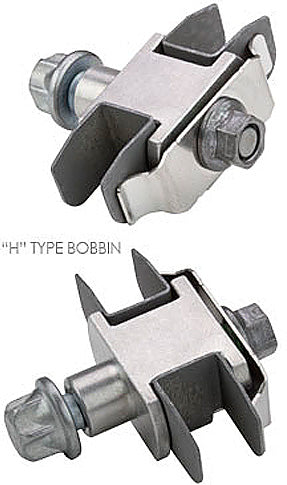 How it works
During braking, torque is transmitted from the disc to the bell through a fastener called a bobbin. This type of mounting system is designed to allow a specific amount of float in both radial and axial directions. This allows the disc to expand and contract under high temperature which reduces stress and increases longevity of the related components.
Brembo's unique anti-rattle disc hardware utilizes a spring fastener in order to slightly preload the assembly which eliminates the noise generally associated with floating discs.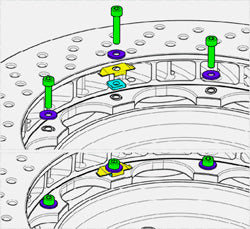 The floating 2-piece anti-rattle disc hardware system, commonly used in high performance braking systems, was actually developed by Brembo back in the mid 90's. This innovation was initially engineered exclusively for the McLaren F1 supercar which is why the hardware is often nicknamed the "McLaren" spring.
Goodridge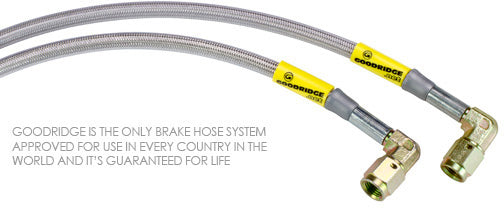 Goodridge is the leading line supplier to OE manufacturers and championship winning race teams worldwide. With the tightest bend radius in the industry and the lowest rate of expansion, you can be assured that every inch of pressure from the pedal is transfered directly to where it counts – the caliper. Goodridge is the only brake hose system approved for use in every country in the world and it's guaranteed for life.
Goodridge High Performance Brakeline race-bred street brake lines are constructed from the finest quality hose, consisting of a PTFE inner hose covered by braided stainless steel. In addition to providing a more responsive and firm brake pedal by eliminating the "spongy" feel that often accompanies stock rubber brake lines, High Performance Brakelines are abrasion and corrosion resistant to stay good looking for a long time to come.
Back to top